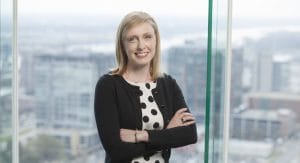 Michelle M. Kaemmerling
Categories
This is part of a series of articles by Wright Lindsey Jennings' labor and employment team examining key trends for employers and the workplace in 2022, authored by attorney Michelle Kaemmerling. The series was featured in Arkansas Business.
As we approach two full years of the pandemic, we are all too familiar with the devastating effects that many experience during the active period of infection.
But we also now know that many who contract the virus deal with long-term effects that last far beyond the initial infection – what the CDC refers to as "post-COVID conditions" and is colloquially referred to as "long COVID." Symptoms can include chronic fatigue, organ damage, autoimmune conditions, shortness of breath, and confusion and memory loss (otherwise known as brain fog).
Some long haulers had no symptoms or relatively mild symptoms when diagnosed with COVID-19. The Washington Post recently reported that medical specialists estimate 750,000 to 1.3 million patients are likely to experience extended symptoms that prevent them from returning to the workforce full time.
For covered employers, the Family and Medical Leave Act (FMLA) provides up to twelve weeks of job-protected leave to eligible employees who are unable to work because of a serious health condition, which long COVID can certainly be. But what happens when the twelve weeks of FMLA leave expires? Or when an employee is not eligible for FMLA because the company is too small to be covered or because the employee has been employed less than a year? In those situations, employers must consider whether additional leave or other accommodation should be granted under the Americans with Disabilities Act (ADA).
The ADA defines disability as a physical or medical impairment that substantially limits one or more major life activities. In July 2021, the U.S. Department of Health and Human Services and the Department of Justice issued joint guidance confirming that long COVID can be a disability under the ADA.
In September, the Equal Employment Opportunity Commission (the federal agency charged with enforcement of the ADA) issued a notice confirming its agreement with that guidance and said further technical assistance would be forthcoming.
The government's position is that long COVID can be a disability. Not every case of long COVID will fall under the ADA, but disability is broadly defined under the statute. While short-term medical conditions like the common cold or flu generally do not meet the disability definition, the symptoms that many long haulers experience are precisely the sort of substantially limiting effects that do constitute a disability. For example, it has long been understood that conditions that substantially affect an individual's ability to concentrate – such as ADHD – can be a disability under the ADA.
Accommodation essentially means some change to how the job is normally performed. So, while employers are generally supposed to treat similarly-situated employees the same, the ADA requires employers to do more for certain employees. Naturally, this puts employers in a tough spot when other employees ask why someone is getting "special treatment," because information about disability and accommodations must be kept confidential by law.
The law requires only "reasonable accommodation," which is an accommodation that does not pose an undue hardship, meaning significant difficulty or expense. What constitutes undue hardship will vary from company to company and position to position.
If an employee experiencing long COVID has a disability that is interfering with their ability to do the job, then the company must conduct an assessment to determine whether a reasonable accommodation is available that would allow the employee to return to work – even if on a reduced schedule. Or, is a leave of absence the only possible accommodation and how much leave is reasonable? Again, these must be case-by-case assessments.
Not everyone with long COVID needs a leave of absence, as some who experience long-term, disabling effects of COVID-19 will be able to return to work with accommodation. Such accommodations can include schedule changes or changes to the physical workspace. For example, satisfying the duty to accommodate could be as simple as making an exception to a rule that cashiers cannot sit by providing a stool to a cashier who is experiencing fatigue and is unable to stand for her shift.
As with any accommodation question under the ADA, employers must take up each situation on an individualized basis and engage in what the EEOC calls an "interactive process" to identify possible accommodations.
Questions about accommodations for employees with long COVID are starting to come in and we don't see that changing any time soon. It's just the latest development in the world of the ADA, which has always required employers to be creative and nimble to stay in compliance.