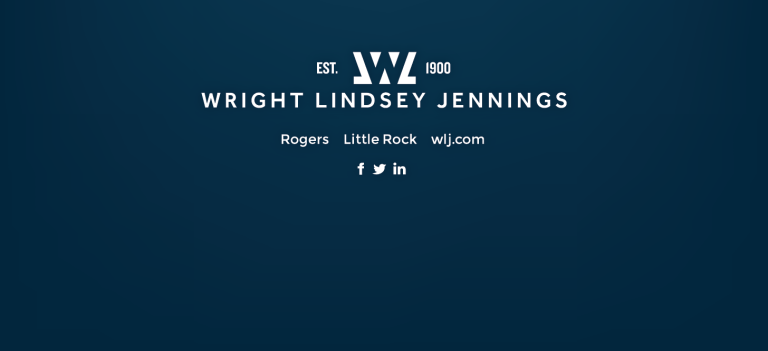 Little Rock, Ark. (December 21, 2021) – The law firms of Wright Lindsey Jennings (WLJ) and Dover Dixon Horne PLLC (DDH) are thrilled to announce a strategic partnership effective January 1, 2022, that will unite the two firms under the WLJ umbrella. The alliance combines two long-standing and highly respected Arkansas-based firms with complementary practice strengths and experience.
"With this partnership, our goal is to be the most comprehensive and resourceful team for clients throughout Arkansas and the region," said Steve Lancaster, WLJ's managing partner. "There is a shared set of values that connects us already – to provide our clients with ethical, sound and proactive legal guidance; to support our communities through giving and service; and to continue to drive progress in the legal industry through innovation and a collaborative spirit."
The combination aligns a deep bench of experienced attorneys well known for their full-service representation of family-owned, privately-held and publicly-traded businesses.
"We have a proud history at Dover Dixon Horne dating back to 1925," said Cal McCastlain, DDH's managing member. "That legacy has prepared us for this moment. The focus now is on the future. Uniting the strengths and efforts of DDH and WLJ under one banner allows us to provide the highest quality, value and breadth of service to our clients."
The attorneys of DDH enrich Wright Lindsey Jennings' business and corporate services, and offer clients new depth and emphasis in the fields of agriculture and farming, construction and infrastructure, insurance and real estate, tax, utilities and telecommunications, family and domestic law, and environmental rules and regulations.
The partnership enables Dover Dixon Horne to complement exceptional corporate and business services with an expanded focus on commercial litigation, intellectual property matters, and labor and employment law, while also taking advantage of a Northwest Arkansas-based office to better serve clients in that region.
The newly combined firm will kick off 2022 with 85 attorneys, many of whom are consistently recognized by their peers as among the best in their areas of practice. This includes 45 listed in the 2022 edition of The Best Lawyers in America®, 21 currently recognized as "Leaders in their Field" by Chambers USA and 43 featured in the current edition of Mid-South Super Lawyers.
###
About Wright Lindsey Jennings
Founded in 1900, Wright Lindsey Jennings is one of the premier law firms in Arkansas and the region, supporting businesses across a full range of litigation, corporate and transactional service areas. Many Wright Lindsey Jennings attorneys are consistently recognized by their peers as among the best in their areas of practice. The firm's attorneys are also committed to excellence beyond the practice of law – serving and leading in local, regional and national professional and community organizations. Wright Lindsey Jennings has been recognized as one of the "Best Places to Work" in Arkansas in 2018, 2019, 2020 and 2021, and also received the 2020 Olivia Farrell Gender Equity Leadership Award. Visit www.WLJ.com to learn more.