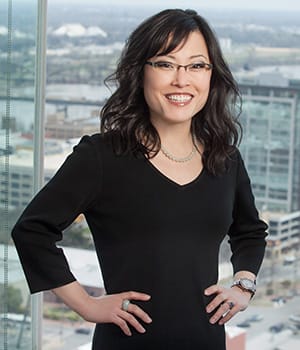 Wright Lindsey Jennings partner Jane A. Kim was recently featured in Arkansas Business addressing the continued uncertainty faced by Arkansas employers regarding the Department of Labor's overtime rules and other pending legislation. The article appeared on the cover of the April 3 "Employment Trends & Outlook" issue.
Arkansas labor and employment attorneys are keeping an eye on challenges to the U.S. Department of Labor's overtime rules as well as a bill that would amend the Minimum Wage Act in Arkansas.
The Labor Department had planned to raise the pay threshold for salaried workers to be considered exempt from overtime rules, but the issue has been mired in court since late last year. The salary level has been $23,600 a year since 2004. But just before Dec. 1, when the threshold was supposed to jump to $47,476, a federal judge in Texas blocked the change with an injunction. Some employers, including St. Bernards Healthcare in Jonesboro, had already made staffing changes to prepare for the new rules.
The Department of Labor has appealed the judge's ruling to the 5th U.S. Circuit Court of Appeals, where it remains.
"Things are still in limbo," said attorney Jane A. Kim, whose practice area includes employer and workplace issues at the Wright Lindsey Jennings law firm in Little Rock. "This uncertainty is certainly frustrating, and it's challenging."
Meanwhile, the Arkansas House of Representatives passed a bill last week that could keep employers from having to pay employees for putting on and taking off protective gear. As of Thursday morning, the bill was pending in the state Senate.
The legislation is in response to an opinion last May by the Arkansas Supreme Court that upheld an award of $3 million to workers at a Gerber Products Co. baby food plant in Fort Smith who had not been paid for the time it took to put on and take off protective clothing, even though the union and the company agreed that the workers wouldn't be paid for that time.
The bill would allow a union and a company to agree to make those types of collective bargaining decisions.
"We think it's a bad bill," said Tim Steadman of Holleman & Associates PA of Little Rock, one of the attorneys who represented the Gerber employees. "It's a right-to-work state. You don't have to be a member of a union. … The union shouldn't be able to trade your rights."
The sponsor of the bill, Rep. Charlie Collins, R-Fayetteville, said the bill would affect few workers in Arkansas and is designed to mirror federal law.
"The AFL-CIO is OK" with the legislation, Collins said. "It does not interfere with collective bargaining rights, so to my knowledge there's no significant opposition."
Gerber also believes it is the right legislation, said one of the company's attorneys, E.B. "Chip" Chiles IV of the Quattlebaum Grooms & Tull PLLC law firm in Little Rock.
"Throughout the litigation, Gerber took the position that the terms of the collective bargaining process should be honored, and Gerber believes that now," Chiles said.
Overtime Rules
Attorney J. Bruce Cross of the Cross Gunter Witherspoon & Galchus firm in Little Rock said it might be some time before the Department of Labor's overtime regulations are settled.
Cross, whose practice area includes employment issues, said President Donald Trump's nominee for secretary of labor, R. Alexander Acosta, could modify the overtime rules if approved by the Senate.
And Cross said he thinks when a secretary of labor is confirmed, the Department of Labor "will come back with something that would be more acceptable to more people and have a better chance of being successful."
In addition, whatever decision the 5th U.S. Circuit Court of Appeals makes on the overtime rules will probably be appealed to the U.S. Supreme Court, he said.
If the overtime rules had been implemented as proposed on Dec. 1, they were expected to award pay to 4.2 million Americans, about 50,000 of them in Arkansas, who previously wouldn't have been eligible for it.
Kim, the attorney with Wright Lindsey Jennings, said that some of her clients had already made the changes to meet the requirement of the overtime rules before the injunction came down. Those employers are keeping the changes in place.
However, some of her clients who were moving toward making staffing changes put those on hold once the injunction was issued.
She advises her clients who have already adjusted employee salaries or statuses to keep them in place, Kim said.
"But, then, if employers who decided not to make any of the changes, … I think they may want to consider tracking the hours of any employees who may end up being reclassified just in case the rule is enforced retroactively," Kim said.
Employers' Strategies Differ
Last summer, St. Bernards Healthcare worked on its strategy for the looming overtime regulations.
It had two options, said Lori Smith, the health company's vice president of human resources: Either increase the individual salaries or reclassify workers as nonexempt and pay them overtime.
She estimated that only about 50 employees out of about 3,000 needed the adjustment.
Even though the overtime rules weren't expected to go into effect until Dec. 1, St. Bernards adjusted its employees' status or pay on Oct. 1.
Some employees received a bump in pay so they could remain exempt, while others who were salaried employees became hourly workers. Those newly nonexempt employees now receive overtime pay when they previously didn't, Smith said.
"It was really a benefit to our staff," she said.
When the overtime rules were put on hold, St. Bernards kept the employment changes because of the benefits to the employees.
Smith said the estimated annual increase in payroll expense is $100,000.
Unity Health in Searcy took a different path. It decided to wait to see the final outcome of the overtime rule before making employee adjustments, which were estimated to cost the health care organization a little less than $100,000, said Stuart Hill, Unity Health's vice president and treasurer.
He said some employees would not have been happy being moved from a salaried position to an hourly classification. "It was an employee satisfaction issue, and it was going to cost us extra dollars," Hill said.
Minimum Wage Clarity
Last week, the Arkansas House passed a bill on a 92-0 vote to clarify the Minimum Wage Act in Arkansas. The bill was a response to the Arkansas Supreme Court opinion involving the Gerber workers.
In 2012, the workers filed a lawsuit in Sebastian County Circuit Court charging that they weren't being paid for all the time they worked at the plant, which included putting on and taking off their protective clothes. The employees' union and Gerber had agreed that the workers wouldn't be paid for that time.
The state Supreme Court found, in a 4-3 decision issued on May 26, that the Arkansas Minimum Wage Act requires the workers to be paid for the time.
In a dissenting opinion, Justice Rhonda K. Wood wrote that the court's decision means "the floodgates will open to litigation at the enormous cost to businesses in Arkansas."
Steadman said he hadn't heard of any lawsuits being filed as a result of the opinion.
Rep. Collins, however, said a few lawsuits had been filed.
Steadman said that Collins' bill further muddies the water on the definition of what work is.
"If the Legislature had set out to define what work is, that would provide clarity for both employers and employees to know what's work, what kind of activities you have to pay for," he said.
And he said that might lead to more lawsuits. "Employees are still going to feel, rightly, that they're being cheated if they're forced to perform tasks that they're not paid for," Steadman said.
Collins thinks his bill is clear and is "the best that any human can come up with." But a lawyer "makes money by creating discord and lack of clarity," he said. "So if I'm a lawyer, that's what I'm going to focus on: 'Where are the seams and how do I pull them apart?'"