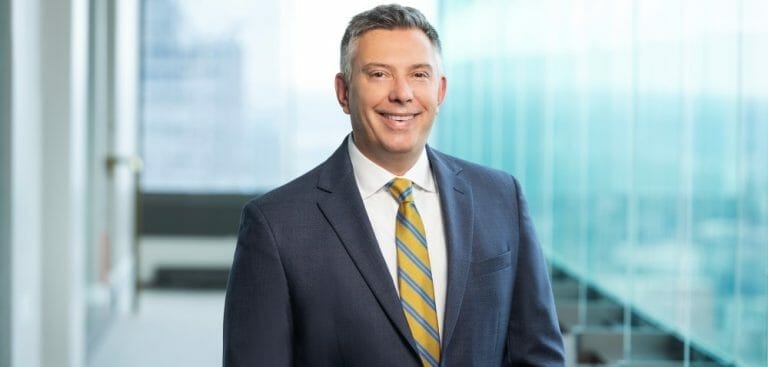 Little Rock, Ark. (June 13, 2022) – Wright Lindsey Jennings (WLJ), one of Arkansas' oldest and largest law firms, continues to strengthen its medical malpractice defense team with the recent addition of experienced litigator Scott Provencher.
"The skill and depth of our medical malpractice defense team are well-known and highly regarded across the state and the region," said Steve Lancaster, managing partner at WLJ. "To add Scott to the team, with his history of client success and in-depth knowledge of the healthcare industry, only reinforces our reputation as one of the state's leading and largest medical defense practices."
Scott, who has joined the firm's Little Rock office, will continue his almost 25-year legal career representing hospitals, psychiatric and behavioral health facilities, pharmacies and pharmacists, and physician groups and physicians in civil litigation matters. Scott also handles litigation related to commercial disputes, including claims for breach of contract, tortious interference with business expectancies, misappropriation of trade secrets and a host of other disputes between businesses. He also defends products-liability and mass-tort claims in state and federal courts and multidistrict litigation.
Scott is a graduate of the University of Arkansas and the University of Arkansas School of Law. Before entering private practice, Scott served as a law clerk to the Honorable Robert L. Brown, Associate Justice of the Arkansas Supreme Court, from 1996 to 1998. He is a member of the International Association of Defense Counsel, American Board of Trial Advocates, and Arkansas Association of Defense Counsel, among other groups.
Scott has received numerous accolades and honors from professional peer review organizations. He has been named to The Best Lawyers in America© in Insurance Law (2013-2022), Medical Malpractice Law – Defendants (2012-2022), Personal Injury Litigation – Defendants (2012-2022), Professional Malpractice Law – Defendants (2012­-2022) and Product Liability Litigation – Defendants (2011-2022). In 2015, he received a Lawyer of the Year designation from Best Lawyers in Professional Malpractice Law — Defendants for Little Rock. Scott has been listed in Mid-South Super Lawyers in Personal Injury Medical Malpractice Defense (2009-2021), and he is recognized in Chambers USA for his work in the category Litigation: Medical Malpractice Defense (2017-2022) and was named an "Up and Coming" attorney by Chambers USA in the same category in 2016.
Scott joins a team of more than 15 WLJ attorneys focused on the complex legal issues faced by hospitals and healthcare providers – large and small. WLJ's medical defense team has the knowledge to explain multifaceted medical situations to juries, judges and other parties, and the acumen as litigators to defend clients judiciously despite highly charged and often emotional courtrooms. The team is defined by meticulous defense and guidance, coupled with client-focused advocacy, and has earned accolades from legal and peer review publications, such as Chambers USA, The Best Lawyers in America and Mid-South Super Lawyers.
To learn more about Wright Lindsey Jennings' medical malpractice defense group and healthcare industry services, click here.