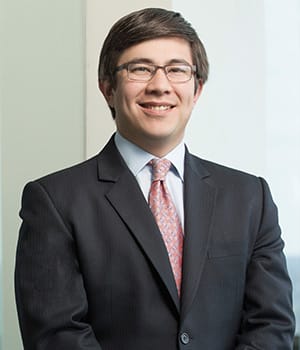 Wright Lindsey Jennings attorney David Jung has joined The First Tee of Central Arkansas' Board of Directors. The mission of The First Tee is to build character, instill life-enhancing values and promote healthy choices for more than 5,600 Central Arkansas youth ages 5-17 through the game of golf. The organization also operates a 100+ acre public golf facility, the Jack Stephens Youth Golf Academy, which features two nine-hole courses and a state-of-the-art practice facility. WLJ is a long-time partner of The First Tee.
The First Tee Life Skills Experience, a national curriculum for teaching character education through specific life skills, is one of the unique features that differentiates The First Tee from other youth initiatives. It ultimately strives to instill in participants The First Tee Nine Core Values – honesty, integrity, sportsmanship, respect, confidence, responsibility, perseverance, courtesy and judgment.
Jung, a father of two and an avid golfer, has a litigation-oriented practice handling medical malpractice matters, as well as construction, insurance defense and products liability matters. Jung obtained his J.D. from the University of Arkansas at Little Rock, William H. Bowen School of Law, graduating with high honors in 2013.