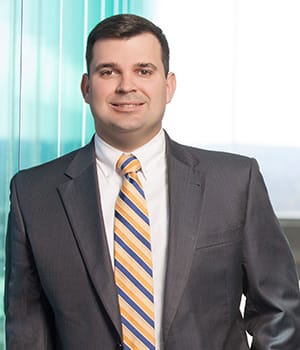 Baxter D. Drennon, Wright Lindsey Jennings attorney, obtained a directed verdict in the Pulaski County Circuit Court in Little Rock in the trial of the case of Alfred Paul Fisher, Sr. v. Evan L. Dobbins. Mr. Fisher claimed that as he was driving on Interstate 30 in Pulaski County, he came upon a vehicle previously operated by Evan Dobbins, abandoned in the interior lane of travel. Fisher, who testified that it was too dark to see Dobbins' vehicle, drove his vehicle into the rear of Dobbins' vehicle. The accident caused personal injuries and property damages to Fisher. At trial, Fisher claimed damages in excess of $15,000.
Dobbins contended that his vehicle was in the roadway due to a prior accident, an accident in which he was not at fault. Further, Dobbins testified that at the time of Fisher's collision with his vehicle, he was unconscious due to injuries from that initial accident.
Upon motion, the court found that Fisher had failed to produce legally sufficient evidence for a reasonable fact finder to determine that Dobbins was liable for Fisher's injuries.