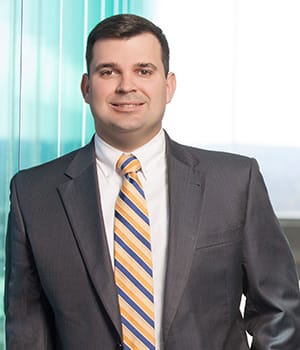 Wright Lindsey Jennings (WLJ) partner Baxter D. Drennon has been selected the 2019 recipient of the Defense Research Institute (DRI) Davis Carr Outstanding Committee Chair Award for his work as Chair of the Young Lawyers Committee (YLC). This distinguished award honors a DRI Committee Chair whose committee has achieved its stated goals, including presenting successful seminars and producing high-quality publications; who has increased committee membership; who has motivated committee membership participation, including participation by minorities; who has created and implemented new projects; and who has filled all required committee leadership positions.
The award will be presented at the 2019 DRI Annual Meeting in New Orleans in October.
Baxter began his term as Chair of the Young Lawyers Committee in October 2018, leading the 3,000+ DRI members practicing law for 10 years or less and overseeing the work of the YLC's 24 sub-committees. Baxter also serves on the Management Council for DRI's Center for Law and Public Policy and is a member of DRI's national Membership Committee.
Baxter has a Little Rock-based practice focused on product liability and transportation litigation. He also advises businesses related to commercial disputes. In addition to his work with DRI, Baxter is a member of the American, Arkansas, and Pulaski County Bar Associations. Since 2013, Baxter has been annually recognized by Mid-South Super Lawyers as a "Rising Star" in the area of Civil Litigation: Defense.