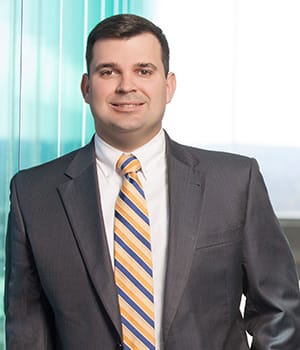 Wright Lindsey Jennings (WLJ) partner Baxter D. Drennon has been appointed Chair of the Young Lawyers Committee (YLC) of the Defense Research Institute (DRI). In this role, he will lead the 3,000+ DRI members practicing law for 10 years or less and oversee the work of the YLC's 24 sub-committees. Drennon will begin his term at the DRI Annual Meeting in mid-October 2018.
Only members who have demonstrated leadership ability in the YLC are approved by DRI's Board of Directors and appointed to the Executive Committee. Drennon is finishing a term as First Vice Chair of the YLC, and he also chaired the Young Lawyers' marketing subcommittee in 2016. Additionally, Drennon was recognized as an outstanding committee member for his work on the YLC in 2015, and he is a member of DRI's national Membership Committee. Later this month, Drennon will serve on DRI's five-person Nominating Committee, which is charged with making a recommendation for the selection of the DRI second vice president, secretary-treasurer and new members of its board of directors.
The primary purpose of the Young Lawyers Committee is to provide members with opportunities for professional development, education and networking in order to advance their growing legal practices. Drennon and YLC members are also tasked with planning an annual seminar that draws more than 200 attendees. This forward-thinking Committee has introduced public service projects, health and wellness activities, blogging and social networking communications to DRI, expanding its reach beyond that of traditional bar organizations. DRI is the leading organization of defense attorneys and in-house legal counsel. Membership in DRI provides access to resources and tools for attorneys who strive to provide high-quality, balanced and excellent service to their clients and corporations.
Drennon has a Little Rock-based, litigation-oriented practice focusing on the defense of product manufacturers. He also advises businesses related to commercial disputes. In addition to his work with DRI, Drennon is also a member of the American, Arkansas and Pulaski County Bar Associations. Since 2013, Drennon has been annually recognized by Mid-South Super Lawyers as a "Rising Star" in the area of Civil Litigation: Defense.